Wenbox Solutions is an Australian-owned small business based in rural Queensland.
Graham and Wendy are cattle producers on the Darling Downs, and first saw the CenterFlow container on a farm while visiting the United States. It was then they realised the potential for this product in Australia and how much safer it would make many tasks performed on farms, especially tasks that currently employ the use of a one tonne bag.
The CenterFlow's usefulness goes beyond the agricultural sector and into industrial and food handling areas where it is necessary to store and move large amounts of product that is flowable.
Wenbox Solutions is the only Australian distributor of the CenterFlow container, made in America by Buckhorn.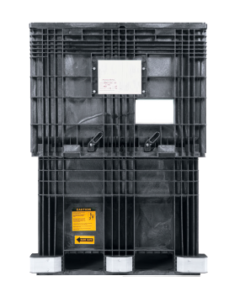 The reusable CenterFlow Container is the most efficient, versatile container available to transport and dispense seed, granular and pelletized materials, and small manufacturing components.
The CenterFlow Container features a smooth, sloped interior and a generous center exit port, which allows safe, complete emptying of contents in as quickly as 30 seconds. Its high-strength plastic construction handles loads up to 1,134 kg. The containers stack and nest to eliminate wasted space; their modular dimensions maximize trailer cubing to reduce freight cost.
Thousands of units are now in use for bulk product distribution, where the unique design provides a safer work environment, saves hundreds of work hours in handling flexible bulk bags and reduces packaging and disposal costs.
CenterFlow containers are available in Australia from Wenbox Solutions as a safer, more efficient way to move and store flowable products.
Benefits
Heavyweight capacity for efficient material handling
Designed for safe, one‑‑person operation
Smooth interior for quick, complete content discharge
Stack and nest for efficient shipping and storage
Excellent protection against rodents / contaminants
Reusable for lower cost per trip and quick payback
Durable construction for long service life
Eliminates waste and bag disposal costs
100% recyclable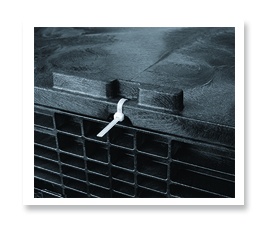 Content Security
Lids and sliding discharge door can be sealed with security tags to prevent content contamination.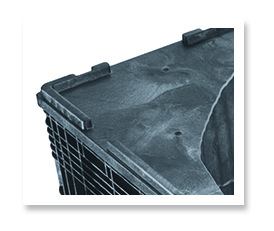 Tight Fitting Lid
Lids give extra product protection against rain, rodents, dust, dirt and other contaminants. Lids feature reinforced ribbing and corner stacking supports.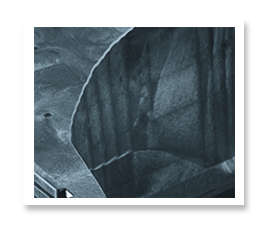 Rugged Construction
Lids give extra product protection against rain, rodents, dust, dirt and other contaminants. Lids feature reinforced ribbing and corner stacking supports.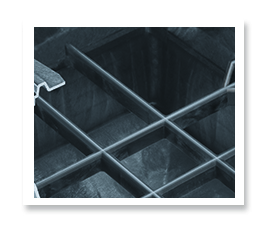 Cross-Member Reinforcement
Ring section contains molded-incross members for additional lateral strength and reinforcement.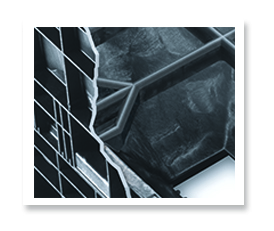 Interior Funnel Design
Interior of the base features smooth sides and funnel shape for complete emptying without tipping.
Side Access Sliding Door
The side access door allows one person to control the flow and safely remove all or part of the container's contents.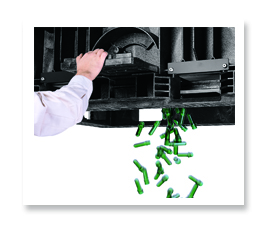 Side Access Sliding Door Latch
Easy-to-operate latch handle secures and releases sliding door. Molded-in eyes allow installation of additional security ties.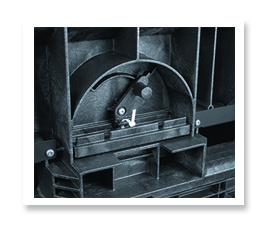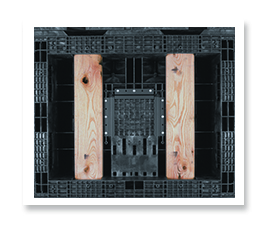 Wooden Anti-Slid Rails
Solid oak base rails strengthen box and eliminate slippage on forklift tines.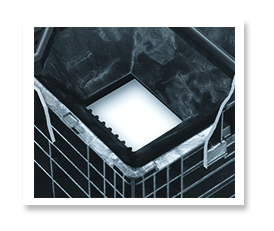 Safe, CenterFlow Discharge
CenterFlow discharge port allows safe, quick emptying of part or all of the container's contents.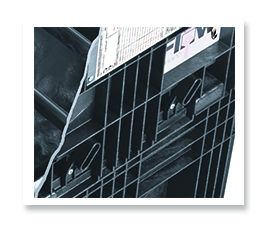 Easy Operation Locks
Latches securely lock ring to base.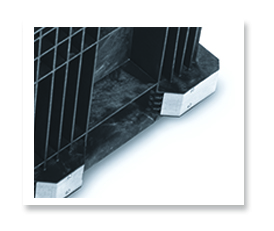 Four-Way Entry Pallet Base
Containers feature four-way forklift entry and are pallet jackable for easy handling.
Reinforced Feet with Steel Hit Plates
Steel plates deflect forklift tines and prevent spearing for extended utility. Reinforced feet allow CenterFlow Containers to be securely stacked four high.
Efficient Nesting Storage
Removable ring inverts and nests over base for compact storage. When nested, the CenterFlow Container takes up 40% less space.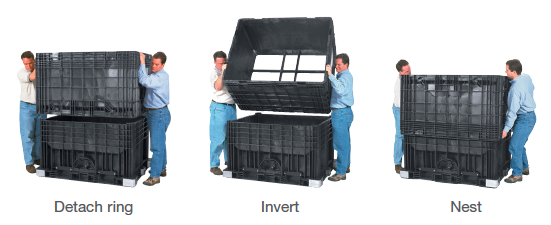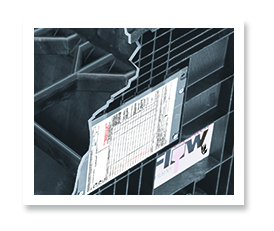 Clear Plastic Document Holders
Clear plastic sleeves hold identification tags and forms. Two sleeves are standard, one each on the 1144mm ends. Other options available, see back page for details.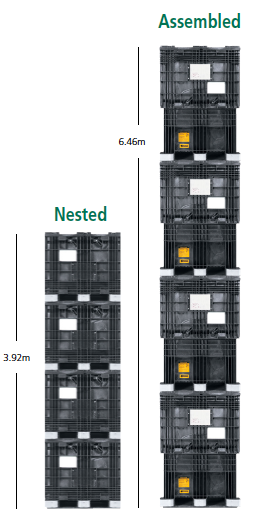 Secure Stacking
Container features guide lugs for easy stacking. Maximum stack filled: four containers.
Wide Range of Applications
Wenbox Solutions has developed a delivery chute with optional hose attachment that allows seed and fertiliser to be transferred into farming plant with more flexibility. This option is ideal for filling bins with multiple openings as well as combines.
| Dimensions | L (mm) | W (mm) | H (mm) | Weight |
| --- | --- | --- | --- | --- |
| Assembled | 1435.1 | 1143 | 1651 | 150.1 kg |
| Nested | 1435.1 | 1143 | 998 | 150.1 kg |
| Base Component | 1435.1 | 1143 | 841 | 93.4 kg |
| Ring Component | 1435.1 | 1143 | 813 | 45.4 kg |
| Lid | 1435.1 | 1143 | | 10.4 kg |
Weight Capacity
1134 kg
Volume
1650.9 litres
1.650 m3
Nest Ratio
1.6:1
Warranty
Buckhorn products are protected by a 1-Year Limited Warranty against
workmanship and/or material defects subject to normal handling procedures.
Caution
To use CenterFlow Containers (CFC) correctly:
Always strap down CFC to transport
Do not stack anything on top of CFC except another CFC
Lifting equipment must be rated at a minimum of 1,588 kg
Always use molded-in handles when assembling and nesting CFCs
Lids must be secured during transport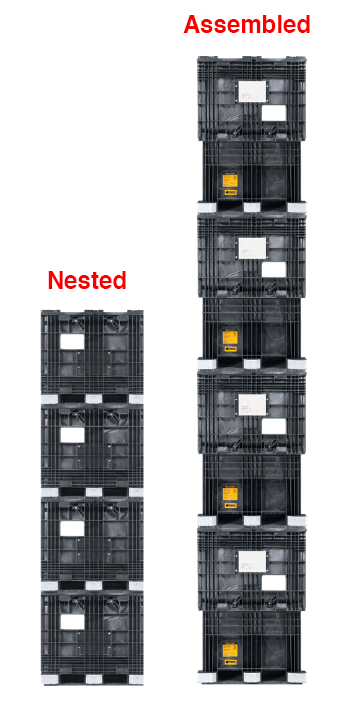 Wenbox Solutions
Address: 'Wilga Park' Bell QLD 4408
Graham Caldwell: 0429 686 754
Wendy Caldwell: 0428 686 754